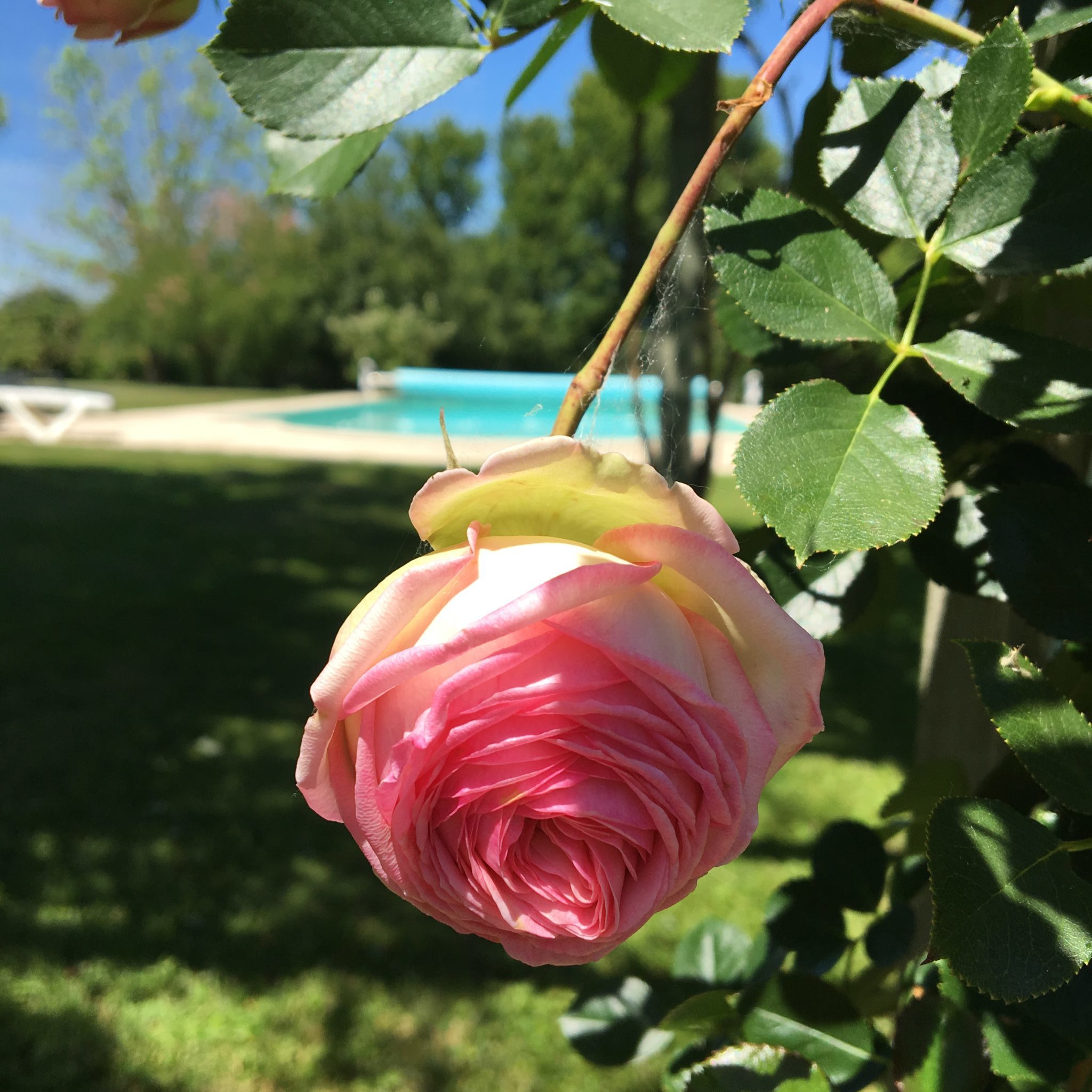 August blog!
It's taken me a while to 'put pen to paper' again and to try to briefly sum up some aspects of our wonderful new life here at Pignoulet. Firstly, this post marks the first anniversary since we 'moved' here permanently after a strange few months living in two countries. Secondly, my wonderful nephew Jack said he read my blog & enjoyed it… so that's at least one person! thx Jack! 
So here's a brief summary of 2019 so far at Pignoulet. The late winter and early spring were spent working on the last of the painting inside and finally re-painting outside. All the shutters, doors and gates are now a gorgeous sage green, which we think softens the contrast between the stonework and the wood, we love it! James did an amazing job of lifting the shutters off their hinges to bring down to paint outside – each coat took 24 hours to dry – so it was a long, long job! 
We also welcomed both sets of parents & family, friends (including the infamous yellow cardies) and neighbours (also friends) we had a lovely time sharing the magic that is Pignoulet. The snow in the Pyrenees came and went very quickly this year – shortening the ski season to just a few weeks as we enjoyed incredible February temperatures frequently allowing us to eat lunch in the sunshine & to practise our cooking. 
In terms of bureaucracy we have achieved – two french number plates on our cars, one medical card to date and no carte de séjour yet (Brexit!!) – no more words needed in this paragraph! 
In late spring the Retreats began and into June when we hosted the most gorgeous teachers and their clients – I am delighted to say that many of those who visited us in 2019 have already booked to return in 2020…. we SO love meeting new faces but feel so blessed that in 2020 we have friends returning and bringing their friends with them. Please take a look at our testimonials page for some of the amazing comments that our clients have shared with us. 
Thank you, to the amazing talented and dedicated teachers who brought their precious clients to stay at Pignoulet and for making their stays so special by the content of your classes, workshops, talks and overall care. A Retreat is a very special time to truly unwind and re-boot. We know several of (y)our clients have made significant lifestyle changes following a stay at Pignoulet & its a privilege for us to have been involved in some small way. 
This year we dug our first vegetable patch – with I have to say a lot of beginners luck and muddy boots
and hands, and hilarity from the villagers! We have produced potatoes, tomatoes, aubergines, lettuces, cucumbers, peppers, courgettes (by the ton!), beetroot, green beans, onions, fresh herbs to date. The sweet potatoes, carrots, purple sprouting broccoli & leeks are still growing ready for the autumn and winter. We have also picked and jarred kilos and kilos of fruit – making jam and compote! 
The summer has been busy with the entire house rented out to guests – we have enjoyed being here for the duration taking residence in the 'palais d'été'. On hand to help when needed, out of sight when not! We also spontaneously offered Pilates classes to our renters, Earlier in the year I began teaching classes to the English speakers who live locally – this has been so lovely and I'm really looking forward to re-starting classes in the coming weeks. 
The annual Jazz in Marciac has been so vibrant for 3 weeks and we have grabbed the opportunity of live concerts and eating al fresco in wonderful pop-up restaurants. Highlights include Sting and Jamie Cullum live in the Chapiteau. The Gascony region offers so many diverse activities year round, but summer is particularly colourful with the salsa festival in Vic Fezensac, tango in Tarbes, wine festival in Madiran to name but a few. 
Next week our last house rental guests of the summer leave – leaving us a few days to prepare for the start of the Autumn Retreat season, we literally cannot wait to welcome you and again we have many folk returning who have been to stay previously.
In the winter… our amazing builder is back… we are converting two more bedrooms to incorporate en-suite bathrooms, so there will be plenty more decorating and DIY to keep us busy leading into an exciting 2020. Please do get in touch (if you have read all the way to here – well done!)… especially if you are interested in booking the house to rent during July & August or if you would like to bring a group of your own to Pignoulet next year. If you look at the Retreats page you will see that we have a walking group, a golf and Pilates group and a Hen weekend all booked in for 2020 already – so not solely Pilates & Yoga! 
Thank you for reading! with love Susie x