of Rural Gascony Elegance
A three word description of Domaine du Pignoulet is "Rural Gascony Elegance" – however Le Pignoulet is so much more than that. It is a retreat in itself, away from the bustle of every day life you will relax the moment you arrive. Le Pignoulet is a large enclosed restored Gascony Farmhouse with a swimming pool and glorious outbuildings and gardens in a rural setting.
THE STORY OF THE HOUSE
Rustic &
Restored
The entrance to the house is glorious - with wrought iron gates the pillars of which are guarded by a pair of friendly lions. The sweeping driveway offers plenty of parking and brings you to the front of the house. The painted shutters and masonry give the house a feeling of warmth and grandeur. We have had the joy of watching our children grow up here having holidayed here summer after summer and have made so many happy memories of staying here with friends and family over the last 18 years. James' parents bought the house in 2000 and fully restored it - we couldn't let it go and we bought it from them in 2016.
Book Now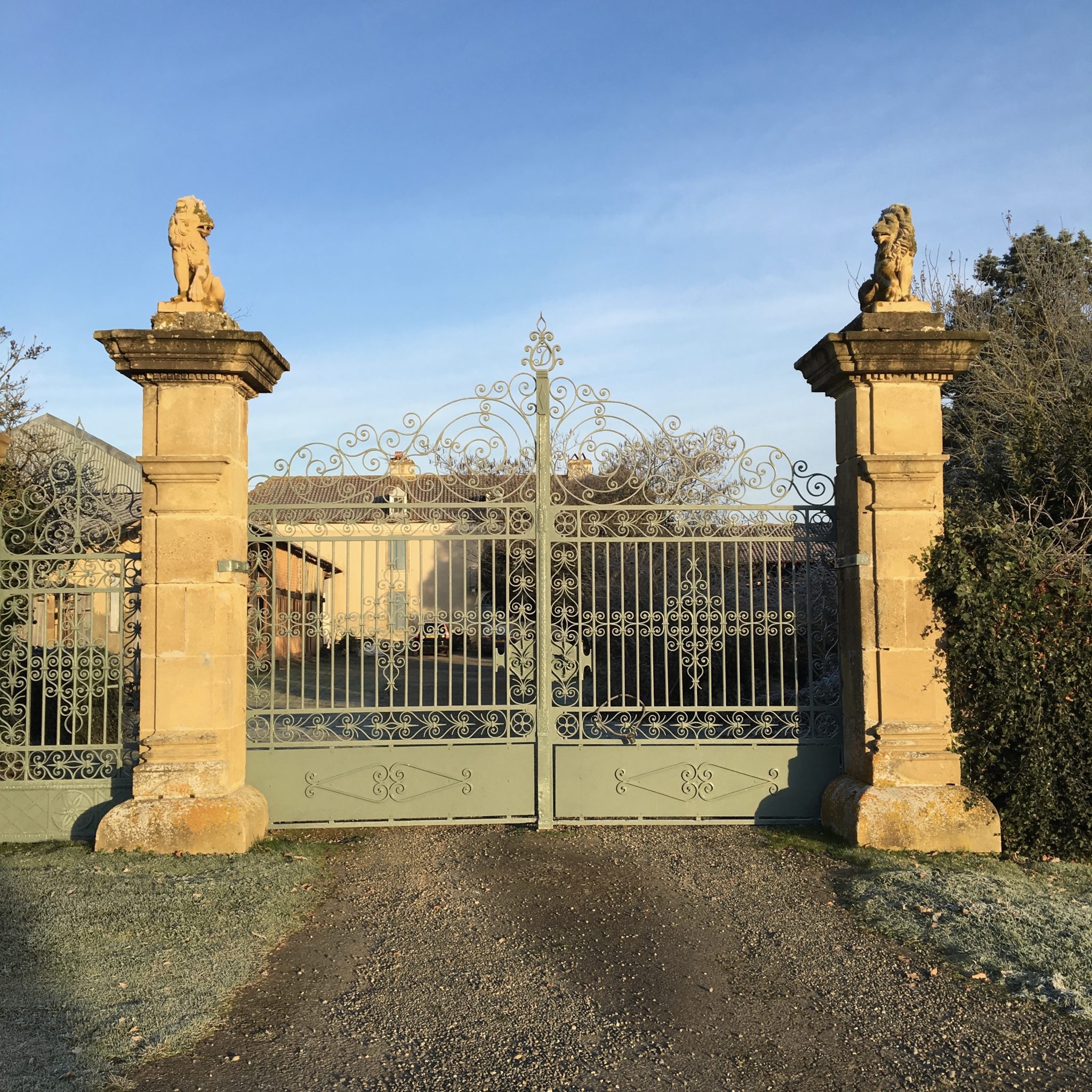 The nearest Airport is Tarbes/Lourdes (LDE). Other nearby airports are Toulouse (TLS) Bordeaux (BOD) Biarritz (BIQ). A car is a necessity at Le Pignoulet.
Le Pignoulet surrounded by stunning countryside. Locally there are daily markets, vineyards, jazz in Marciac, Lourdes, the Pyrenées mountains. Producers of Armagnac and Fois Gras welcome you to see & buy.
Plaisance is 7km away where there is a large supermarket, bakeries, patisserie, ATM, medical services, Tourist office, vet, pharmacy, and bars, cafes, restaurants.
For sole-use holiday rentals – our house managers offer extra services including pre-arrival food shopping, catering and extra housekeeping – all at extra cost. Bed lined & bath towels are provided. Laundry facilities are available for your use.
An ideal location for running, cycling, swimming, canoeing, fishing, golf, tennis, horse riding, hiking, wake-boarding, nordic walking, mini-golf amongst many others.
Pignoulet lends itself not only to retreats but to celebrate an occasion for family/friends, for artists, book groups, golfers, card players, cyclists, runners, walkers etc. If you have a group and want some time away please contact us. We will cater to your specific requirements & you will have exclusive use of Pignoulet and its facilities.
Micheline G
Super semaine en famille dans cette maison spacieuse et confortable. la maison paisible et pleine de charme est vraiment idéale pour accueillir une grande famille où parents et enfants préservant leur intimité. Nous avons apprécié l'espace des chambres, le confort des salles de bains, la grande cuisine et la lingerie, le grand pré où nous déjeunons tous les jours. Les salons confortables nous ont permis de faire des parties de loup garou endiabées… et la piscine, un régal!!!
Lucy E
We loved our visit - the house is huge and stylish with high ceilings and large shuttered windows opening onto country views. There's loads of entertaining space and garden for the children to run around in, along with a wonderful swimming pool. It's a perfect house for a large house party. You can go walking and cycling nearby and visit local historic towns for shopping, restaurants and wine buying. We highly recommend!
Nick Collison
Great property in a great area of France. Home from Home. Really well restored property that you wish was yours! The food was excellent and the local restaurant we visited was French cooking at its best. Great place. Fantastic holiday.
Gillian S - Jan 2017
My husband and I had a fabulous long weekend staying in this super property. Even with the winter weather being horrible. We lit the fires and enjoyed eating local produce and drinking fine wine while soaking up the atmosphere. We would love to go back with our large family in the summer.
Marihelen Esam
We loved this house! We stayed here with friends and family and lived it. The setting is stunning and sitting outside to eat on a warm evening with family and friends has got to be one of the nicest things ever. Lotos of local activities including tennis and wake boarding which we all loved. A great local food market and a man with a van of delicious cheeses turned up mid-week. the pool is lovely, the house is well equipped - all in all we loved it!