ABOUT THE OWNERS
Susie & James
Wetton
We met when working in Ski resorts in the Haute Savoie, we had a dream many years ago to convert an old school house into a Chambres d'hôtes in the Corrèze – many years later we have made our dream a reality by opening Domaine du Pignoulet and renting the house out to families or groups. We have lived in London, Essex and Bedford since we married and have 2 grown up sons.
James worked in the city after a brief spell in the army and then completed 4 ski seasons working as a Chalet chef and Ski guide. Since our travels we returned to the UK to marry and have a family, James has worked in business since then, the accent has always been on Client development and working closely with people.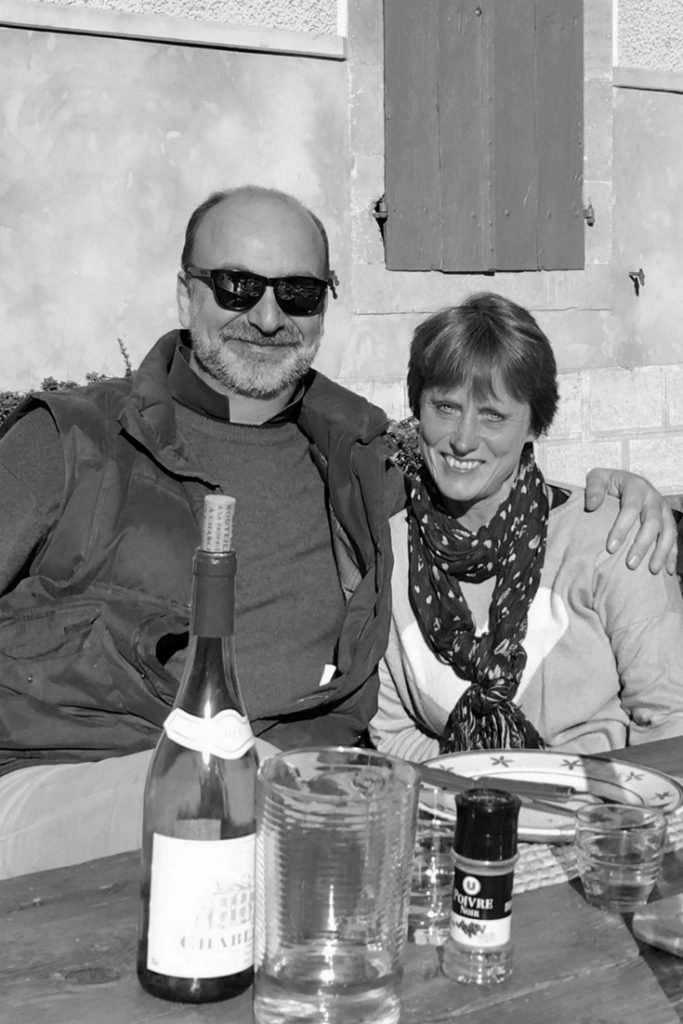 Following a degree in Sports Studies Susie took a 'gap' year and went to work in Les Arcs. 6 years later having travelled and worked extensively she returned to the UK. Her experience involved catering including 2 seasons in commercial kitchens. She also worked as Resort manager & ski-guide. Working overseas included 7 months in Turkey for Sunsail, working and travelling around Australia, 6 ski seasons in the French alps and 2 summer seasons in Normandy and the Dordogne.
PILATES & YOGA TEACHER - PERSONAL TRAINER
Qualifications
& Experience
Susie has been self-employed for the last 20 years as a Personal trainer, Sports massage therapist, Pilates teacher and Nordic Walking instructor.
2021 – 200 hr YTT – Yoga Alliance. 2021 – Yoga Nidra Certification. 2017 – Garuda – A Festival of Movement
2015 – The Moves. Flexibility & Stretch for Pilates. Essential Reformer teaching qualification. 2016 – Pilates for Active Ageing. J Pilates convention. 2018 – The Pilates Playground – J Pilates
2012 – Level 3 – in Exercise Referral – The Wright Foundation
2011, 2012 & 2013 – APPI – Pilates Conference
2010 – Certificate in Nordic and Fitness Walking – Level 2 – CYQ
2010 – Exercise & Fitness – Anatomy & Physiology – CYQ
2007 – Power Plate – Basic Fitness Academy. 2008 Level 1 – Core Fundamentals.

2009 Level 2 – Health and Fitness – PP Academy
2008 – Pilates – Arms & Legs, X-Band, Body Rolling – The Physical Company2004 – OCR Level 2 – Mat based Pilates. 2005 – Next Step Pilates – Pilates Plus. 2006  Matwork Advanced Level. 2013 – Pilates for Common Orthopaedic Conditions. 2014 – Sport Specific Pilates. 2015 – Sport Specific Pilates – Future Fit
2004 – Fat Loss: The Science Assessment, Nutrition & Exercise Prescription – Intelligent Fitness
2003 – Body Massage –  Diploma in Sports Therapy –IIHHT
2003 – Member of the Register of Nutritional Therapists – Level 1
2003 – Premier International Diploma in Personal training & Sports Massage Therapy
2003 – present — REPS – Advanced instructor level 3
Tranquility
surrounds you