Where to start? Our hosts Susie and James, were warm, welcoming and relaxed. Sharing their beautiful home with us and making us feel so welcome. Nothing was too... read more much trouble. The rooms are very clean and comfortable without losing the traditional French charm and ambience. Very comfortable beds and pillows. Beautiful grounds and a fantastic pool, good for a serious swim as well as for fun. The food; whether it was a great breakfast with home made compote, fresh French bread and croissant, lunch under the trees or a beautifully planned evening meal, the food was terrific. James is an accomplished cook and produced plentiful and delicious lunches and dinners. My husband has coeliac's disease and Susie and James ensured that his food was gluten free and that he didn't miss out on any treats. Pilates and yoga to a very mixed ability group cannot be easy and yet Susie made the classes accessible for the beginners and challenging enough for the more experienced. I think we all felt in very safe hands and particularly enjoyed the stretch and relax. There was also time for kayaking, and wine tasting and taking in the local markets, and our hosts arranged a really good programme. We had a wonderful, relaxing and invigorating time. It was fantastic to be back in beautiful rural France and to enjoy all it has to offer and so much more Thank you James and Susie We'll be back!

Jane Whittaker


September 13, 2022
This was my second visit to this wonderful place and certainly won't be the last! The hospitality from Susie and James was second to none and you completely relax as... read more soon as you step over their threshold. We enjoyed some lovely warm sunshine for our walks, cosy log fires in the evenings, delicious food and really great Pilates sessions in the studio. Thank you Susie and James 😊

Stephanie Howe


March 13, 2022
Lovely getaway close to Tarbes and ideal for retreats

Gary Assim


March 13, 2020
Just spent the most relaxing long weekend here on a Pilates retreat. The house and studios are just idyllic and the area beautiful but the icing on the cake was... read more Susie and James who were the most incredible hosts ! The food was out of this world and never seemed to stop coming. Honestly can't recommend more highly if a weekend of exercise, food , great company and beautiful surroundings are your thing !

Louise Speck


May 13, 2022
We had a fantastic time at this lovely family home. We were 5 couples plus a baby and it could not have been more ideal! The house was clean and... read more well appointed. We felt like we were at home. The hosts were very hospitable and we would certainly return again.

Kathleen Inman


June 13, 2022
Wow - what a treat!!! This stay ticked all our boxes - wonderful hosts, beautiful house, great yoga and pilates lessons, amazing pool, stunning location, gorgeous dogs and incredible food... read more accompanied by local wines. A super spot from where we also went river kayaking, visited a few local towns and markets, went wine and Armagnac tasting. Great walks around the area which was quiet, picturesque and unspoiled. We loved it. A great group of friends made it. Thanks so much Susie and James. We will be back!!!!

Jacqui Goulding


October 13, 2022
S & J have created a unique place…
This place is hard to describe, there were so many outstanding features of my recent Pilates retreat at Pignoulet. Susie and James have created a unique place to relax and enjoy amazing food with excellent pilates sessions.
This was my third visit and I will be rebooking!
Steph Howe
Return home rejuventated…
Pignoulet is such a wonderful place to practice pilates, with easy links from UK to Lourdes.
Susie and James treated us so well with fabulous food, lots of wine and plenty of laughter.
The variety of pilates exercise, swimming, countryside walks and comfy beds sent me home throughly rejuvenated. Next year will be a joy 🙂
Jennifer Humphrey
3rd stay at Pignoulet
My third time at Pignoulet and certainly not my last. First two visit were Pilates Retreats this time I came with my family and we took over the house for the week. I felt relaxed within minutes of our arrival, the worries of the world left at the beautiful gate at the end of the driveway. With this being a family holiday I got to visit local markets, the most amazing day out on the Funicular in Lourdes and a trip to the coast at Saint Jean de la Luz all within a sensible distance (coast 2hrs being the furthest) the house is still as beautiful as the first time I saw it but now with more en suites. We shall certainly be back again for a family holiday- next time I'm bringing even more family with me. Thank you Susie & James for your wonderful hospitality and opening up your beautiful home to us.
Rebecca Smith
Bendy Ladies second stay…
We 'The Bendy Ladies' have been spoilt rotten during our stay at Pignoulet. A beautiful traditional farmhouse with extras! Delicious food prepared and served by James and Susie…. They kept our wine glasses full too, even by the pool!! Pilates classes taught in wonderful indoor and outdoor studios. Such a treat to feel so energised but relaxed. We've booked in again next year!
Gill Smith
One word – 'EXCEPTIONAL'
This was my second visit to this truly unique place and I have already booked to come back again. Our group enjoyed gorgeous Autumn colours and sunshine in the garden at Pignoulet and on our walks, cosy log fires, simply amazing food and great pilates sessions.The rooms and ensuite bathrooms were all lovely and had such comfy beds, I slept like a log!
In one word… exceptional.
Stephanie Howe
One of my "happy places"
So happy to finally be able return to one of my "happy places". This was my second visit to Pignoulet and it did not disappointment (not that I expected it to). The Pilates classes were as varied and challenging as my first visit.
The food and hospitality provided by Susie and James were fantastic. A perfect place to "detox" from the outside world. So glad we already have a third visit scheduled for 6 months time!
Sarah Greenwood
Relax, recharge and enjoy
A wonderful few days spent at Pignoulet. James and Susie are so welcoming the hospitality and food was amazing. A lovely peaceful setting to relax, recharge and enjoy some Pilates and walking.
Thank you for a really special weekend.
Carol Heard
The perfect place to….
The perfect place to get away from it all. From the moment you arrive you feel your cares slip away as you are enveloped by the warm, kind hospitality of Susie and James. Lovely personal touches in every room and nothing is too much trouble. Incredible food and wonderful Pilates. I would thoroughly recommend and visit again at the first opportunity. Thank you!
Ceri Yates
Top Notch
Full to the brim from a tranquil holiday in rural France, in a beautiful French chateau, and the tasty catered food.
James & Susie's catering and hospitality was top notch; daily pilates classes were a much welcomed addition; and the views of the Pyrenees on the running routes were sublime.
A perfect booking for our large group of friends.
Charlotte Page
Pignoulet is heaven.
Pignoulet is heaven. A beautiful farmhouse with all the facilities you could wish for. We were generously hosted by the charming Susie and James who provide delicious and healthy meals, Yoga & Pilates classes and suggestions of local activities including markets in nearby towns, vineyard tours and wine tasting. It's perfect for groups of friends or families to unwind and there's something for everyone here. I'm already plotting my return.
Emily Blandford
Go…. & you'll want to go back again & again.
Just home from my second Pilates retreat at Pignoulet. There will be a third, fourth, fifth….Susie and James have thought of everything to make your stay just perfect. Go…and you'll want to go back again and again. Thank you Susie, James, Dottie and Pickle. XX
Christine Dinwoodie
Merci mille fois
Merci mille fois Susie & James pour votre accueil incroyable, votre hospitalité, convivialité et pour nous avoir permis de passer 15jrs fantastiques dans votre maison. Nous espérons avoir l'occasion de vous revoir! Claire & Sam
Très bon séjour
Magnifique maison! Le + : seances de yoga/pilates le matin! Accueil chaleureux! Nous reviendrons avec grand plaisir. Famille Frontier.
Helene Frontier
Cosy fires in November
I recently joined a Pilates weekend with a group of friends, expecting to be trotting up the road for food and drink, how wrong could I be – the food and drink and general hospitality was unreal, top quality. The cosy fires in the lounge and other rooms was so inviting.
The pilates teaching was the best I have experienced, so personalised. Seemed to be pitched to all levels. Classes were flexible and adapted to the group needs
The rooms and general cleanliness was exceptional with lots of little touches whilst still very homely
There were a few local walks to meet all abilities – a short drive away would offer even more
It was a privilege to visit Susie and James retreat and I'm looking forward to visiting next year in the warmer weather to enjoy the garden and pool – Thank you xx
Claire Stringer
Family stay
We (my wife and I) were recently invited to join our daughter's family for a weeks' stay at Pignoulet.
Although retired and not necessarily requiring a "chill out" I must say that what a delightful week we had, with Susie and James possibly qualifying as the most accommodating hosts we have met. Hence we would fully recommend Pignoulet for anyone seeking rest and relaxation.
Roger Stagg
We wanted for nothing…
A truly wonderful few days of Pilates, relaxation and laughter in the beautiful surroundings of Pignoulet.
James and Susie were the most generous of hosts, welcoming our group into their stunning home. We wanted for nothing…delicious and nourishing food, drinks, cheese and even a bit of dancing…!
Can't wait for my next retreat in 2020. Thank you James, Susie and Dotty. xxx Christine Dinwoodie Oct 2019
Christine Dinwoodie
What a wonderful weekend. Perfect
What a wonderful weekend.
Perfect setting, perfect hosts and perfect pilates. I had a wonderful time. Many of us have such busy lives that it's hard to take the time to relax. I did definitely relax at Pignoulet immersed in the wonderful atmosphere created by the hosts.
The food was wonderful, the wine flowing and the relaxing scenery amazing. A great setting for making new friends or spending time with 'old' ones. I would return in a heartbeat.
Thank you for looking after me so well. See you soon
Sally Lattughi
A Perfect Pampering
A Perfect Pampering
My stay could not have been more perfect, from start to finish I felt pampered and utterly spoilt.
Susie and James are the most welcoming hosts, their warm hospitality made me instantly at ease.
I hadn't met anyone else on our Pilates retreat before but the scene was set for new friendships to flourish and we chatted late into the night and helped each other with worries and plans.
My dietary requirements were outstandingly well catered for, homemade glutenfree bread, granola, excellent meals, endless buffets and quite frankly copious amount alcohol!
I enjoyed the Pilates sessions hugely and congratulate you both on creating such a special vibe.
I did joke that I'd like to move in – or at least come back on a very regular basis!
A bientôt
XX
Charlotte Marsh
Didn't want to leave
Recently visited Le Pignoulet for a Pilates retreat! Amazing from start to finish and didn't want to leave. Susie and James were the best hosts you could wish for. Their home grown home cooked food was delicious. The infused water, wine and fizz flowing freely. The house is beautiful with amazing views and scenery, garden, great sun rises and sunsets. The perfect place to chill out and relax. The moment you drive through the gates you could feel the calm and relaxed atmosphere. What a wonderful home you have. Thank you for letting us share it for a few days xx
Leanne Lowe
A truly memorable stay
Simply amazing. It's difficult to know where to start: idyllic rural setting, understated grandeur, charming and stylish accommodation, sublime food or fabulous pool. Actually it all started with the delightfully friendly and welcoming Susie and James – the perfect hosts – who have the special talent of making you feel you've known them years after the first handshake. They are warm, engaging, entertaining, informative and accommodating.
Thanks for a truly memorable stay.
Adie Box
Beautiful setting
I've visited Pignoulet twice now, and it truly is one of my favourite places in France. The accommodation is luxurious and comfortable, the pace is relaxed, the setting is beautiful, the food is simply amazing.
Very highly recommended as a vacation rental as well as attending a retreat.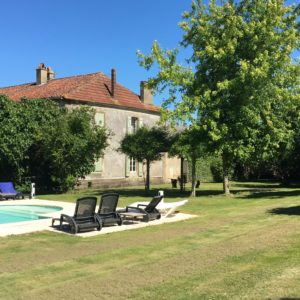 Marlene Carter
A First Class Experience
This was a first class experience which I can wholeheartedly recommend to anyone. I held my first Pilates Retreat here last month and the entire experience has been a joy. Aside from the wonderful location, incredible hosts and fresh, mouth-watering food, from my point of view as a teacher, Susie and James did everything in their power to help me get this retreat off the ground, and make it a huge success. My clients had the most amazing retreat experience and are joining me again next year. I can't thank you enough Susie and James. Cheshire Pilates. 
Suzanne Rogers
Fantastic place
What a fantastic place for a Pilates Retreat.
The venue and accommodation were perfect….and the food and hospitality amazing.
Karen Coleman
A glorious place to have found
Just returned from an amazing weekend/pilates retreat at Le Pignoulet. Susie and James are fantastic hosts, providing excellent food and a wonderful environment to relax and recharge. What a glorious place to have found. My first retreat and it exceeded all my expectations! I plan to return!
Wendy Willie
Simply perfect
Simply perfect. My second visit to Pignoulet with a different group of friends and we have already booked to come back next year. What Susie and James have created is simply unique, the house is stunning, food is amazing and Susie is a fabulous Pilates instructor. Some of the group had never done Pilates before and Susie has the ability to make everyone feel at ease yet confident to get the most out of each lesson.
Susie and James are the perfect hosts with endless supplies of tea, cake and of course the rose!
Thank you so much for another wonderful retreat. So very good for the soul. See you in 2020 xx
Kate Hudson
Refined French charm
Away from it all! The hospitality and food at Domaine du Pignoulet are second to none. Pilates, outdoor swimming and bracing walks are an added bonus. Couple all this with refined French charm and this is a winning formula for a very relaxing and restful break away. Thank you so much Susie and James. We'll be back!
Mel Ross
Confidently recommend to others…
"An amazing couple of days at Le Pignoulet"
Wow! from the moment I stepped through the wonderful iron gates you felt relaxed and pampered!
Susie and James are so welcoming and marvellous; their cooking and their hospitality is fabulous and in abundance. Their menus were so varied and we enjoyed super local produce. The rooms were so spacious and well furnished and equipped. I was so fortunate to enjoy waking up to a wonderful sunrise each morning and then enjoy the sunshine so swimming and relaxing in the quiet in the grounds was fantastic.
I can't wait to return and would confidently recommend it to others.
Maggie Jackson
Fantastic 5 day experience
What a fantastic 5 day experience. From the moment we arrived, to when we left, Susie and James looked after us brilliantly. We had Pilates, relaxation, walks, food and wine. All excellent. The food was amazing and all freshly prepared by both James and Susie. The house is beautiful and we were made to feel very welcome. Roll on next year.
Rachael Hopkins
Retreat = Real Treat
"A retreat that's a real treat". As organiser of the 'bendy ladies' trip to Pignoulet I was both excited and a little bit nervous about what we would experience – but everything we encountered exceeded all expectations.
The food, the wine, the fresh air and of course the pilates were fantastic.
Susie and James were fabulous hosts and are passionate about what they offer… I don't think you can get any better!
Bendy ladies are booked in next year!
Gill Smith
"Truly fabulous stay"
Not long been back from a truly fabulous stay at Pignoulet. James & Susie are the perfect hosts welcoming us into their lovely home. We had the most amazing food all sourced locally with some lovely wine. Susie is a great Pilates teacher and in our small group of 8 was able to finely tweak us individually so we got the best out of each class. I would highly recommend the experience and am looking forward to going again next year for another week of fun & laughter with great friends.
Sarah Hind
"Very special place"
Le Pignoulet is a very special place to stay. Hosts James and Susie are so welcoming and their house is beautiful, warm and so comfortable. The food is sublime and the Pilates barn facilities are fantastic. We spent a lovely five days thoroughly enjoying all this special place has to offer, so much so, we have already booked for next year! It's the perfect place to relax and unwind and I can't recommend it enough.
Mandy Petrusic
A spot of star gazing
I thoroughly enjoyed a relaxing couple of days at wonderful Pignoulet. James and Susie were wonderful hosts who provided us with delicious meals and wine. My room was beautifully decorated and had a fabulous en-suite bathroom.
My overriding memory of our stay would be the joy of staying in such a peaceful and beautiful area. The sunny weather enabled us not only to enjoy eating lunch outside (despite it being mid-winter!) but also to do a spot of star gazing once the evening came.
I would recommend a visit to Pignoulet so that you can thoroughly relax in the knowledge that you'll be wonderfully cared for in a fantastic environment.
Tessa Mobey
Wow! Wonderful Pignoulet experience
Wow! It is almost impossible to find the words to describe how wonderful the Pignoulet experience is. From the moment I arrived, I felt completely cocooned in the peace and beauty of Pignoulet. Susie and James, you are the perfect hosts. Everything has been considered form the english plugs in the gorgeous bedrooms to the stunning, fully equipped Mat Pilates studios and the extensive support you give to us teachers. The food has been fantastic, so flavoursome, wholesome and completely delicious and of course the wine has flowed freely!
Thank you so much for sharing your slice of heaven and i can't wait to return.
Joanne Cobbe, JPIlates
Joanne Cobbe
A little slice of heaven
I am just home from the most perfect weekend at Le Pignoulet. The house itself is stunning; beautifully and sympathetically renovated, spacious and comfortable with many places to gather together with friends and family, or seek out a quiet corner to curl up and read a book.
Our hosts Susie and James are one of the most warm and generous couples I have ever had the pleasure to meet. We were instantly made to feel at home and welcome, and nothing was too much trouble. The array of delicious meals they cooked for us was superb, with fresh local produce making every meal burst with flavour.
I can't wait to return next June with a group of my Pilates clients so that I can share this little slice of heaven with them. I'm sure that like me, they will fall in love with Le Pignoulet!
Thank you Susie and James for a truly wonderful weekend xx
Suzanne Rogers
Wonderful hosts; warm, passionate & fun
Wonderful hosts; warm, passionate and fun.
James and Susie made us feel so welcome, they treated us like friends staying over for the weekend.
The building has been lovingly and expertly updated, which means that the facilities are as you would have in your own home.
What shines through is the love and passion that James and Susie have for their project here at Pignoulet. They are clearly a couple who take pleasure in doing things and doing them well.
I had a lovely weekend at the teacher's retreat and I am
looking forward to coming back soon.
Beverley Kotey
The perfect hosts
What a weekend! Susie and James welcomed me with a group of friends last week and I have to say it was the most relaxing weekend I have had in a very long time. It felt like arriving home after a busy, stressful day at work and just leaving our worries behind. The house is set in a lovely, quiet area and the facilities there are outstanding: beautiful pool, spacious, clean bedrooms, quirky Pilates studio, lots of space to sit and relax. The food was better than anything I'd expected, and catered for all the dietary requirements in our party, seamlessly. I am about to put down a deposit for next year and I cannot wait to be back! Thanks James and Susie for being the perfect hosts.
Mel Knibb
This was my second visit
This was my second visit for a weekend of Pilates. I hadn't thought it possible to better my first visit but how wrong can you be!! It was a weekend of fun, friendship, wonderful food (and wine!) – and lots of Pilates!
We started the weekend knowing only one or two others in the group but ended as a group of long term friends – Susie and James and Pignoulet have that effect on you.
I am so looking forward to returning for retreats 3 and 4 next year!!!
Miriam Rose
Roll on next year
I wasn't entirely sure what to expect from my weekend and was pleasantly blown away at every element.
The rooms are spacious and clean, and the beds were super comfy beds. We didn't spend very much time in our rooms, but had a lovely view when we did. The night sky is just stunning!
The food was incredible, and with multiple allergies to cater for, Susie and James really were up against it. Far from underwhelming "free from" processed nonsense, they put some serious effort into ensuring our party of 10 ate together in an inclusive way, which is really important to people who feel excluded everywhere they eat. The local wines are delectable, and don't give you a hangover the next day!
We had brilliant weather for September, and were able to spend a few hours by the pool each day, which was amazing considering it had started getting chilly back home in the UK.
The pilates classes were the bonus for me, and although I've not done pilates for many years, I really enjoyed them. Susie's teaching skills are phenomenal, and it's made me want to continue practising locally. Coming home with sore abs felt like a rite of passage.
I cannot thank Susie and James enough for their hospitality, and I shall be recommending Pignoulet to every single person I know. Roll on our retreat next year 🙂
Renee Davis
I can't wait to go back!
I'm not sure that words can describe this place and the wonderful people who run it.
From the moment we arrived we were made to feel welcome…from welcome drinks, to a tour of the house and a wonderful lunch. Nothing was too much trouble; indeed I've never met such kind, gentle, accommodating, friendly hosts. And I've travelled a lot.
Our group wasn't the easiest to cater for. There were multiple food allergies, coeliacs and vegans and we were all fed with gorgeous food and never once made to feel different or awkward.
As a mum to a child with coeliac disease I never get a break from planning or making food. The weekend was proper relaxation. Never once did I think about food and I was able to truly relax for the first time in over a decade.
The Pilates classes were fantastic…adapted seamlessly for both total beginners and advanced alike.
If you want complete relaxation whether that be with a group of friends and family with no 'extras' or as part of a retreat where your every need is catered for, then this is the place.
I can't wait to go back!
Vicki Montague
What an incredible retreat
What an incredible retreat. Visiting for a long pilates weekend with a group of friends, Suzie and James welcomed us into their home from the moment we drove through the gates. I can honestly say that I haven't felt as calm and relaxed in years.
Suzie's pilates sessions were perfectly paced for the wide range of abilities in our group and easy to follow, with plenty of attentive guidance when we needed it. Best of all, the pilates studio was set in an open barn area, surrounded by the sounds of nature and fresh air. Truly special.
The house itself is a delight, with loads of character, comfortable bedrooms, large pool and pretty gardens. Set in beautiful countryside, close to the Pyrenees, Domaine du Pignoulet is the perfect base to explore the surrounding area.
Staying full board, we were treated to incredible fresh, home-prepared food, with a whole range of allergies and intolerances in our group being catered for without fuss. Being Coeliac, it was a treat to be looked after with wonderful meals without worry. The flourless Orange Cake and Cacao energy bites were divine!
A couple of days on and I am still reaping the benefits of the relaxation experienced. I feel privileged to have stayed in such a lovely place with such amazing people. Thank you so much Suzie and James for making our break with you so special. I truly hope that I will be back soon.
(September 2018)
Kate Dowse
Amazing long weekend
Had the most amazing long weekend thoroughly spoilt by Susie and James. Pilates sessions couldn't have had a better setting in the barn watching the sun rise in the morning. Every session was different and I still cant believe we did a whole 8 hours over the 3 days. The food was just beautiful…and so was the wine!
We already have a date booked for next year, cant wait xx
kate hudson
Thoughtful touches
I have never entered a holiday let and received such a warm welcome in my life. From the very moment we drove through the gates Susie and James welcomed us with open arms to their beautiful home. The property is stunning, the bedrooms comfortable and the bathrooms spacious and spotless. Thoughtful touches, like mosquito plug ins and UK adaptors had been left in the bedroom for us. The garden is very pretty and the swimming pool most welcome on a hot day.
The local area is very pretty, with tiny French villages, local markets, old churches and sunflower fields galore.
We were there for a pilates retreat and Susie is a fantastic teacher, coping with a mixed-ability group seemingly without effort. Waking up to a morning pilates session with the sounds of the farm animals waking up, and the sun peeking over the horizon is priceless.
And I haven't even got to the food yet! Susie and James coped with multiple dietary requirements during our stay and did a truly wonderful job of feeding us all. I can't wait to go back.
Mandy Mazliah
Millennials' weekend
The only thing that could top your fantastic food, gorgeous house and brilliant Pilates sessions was the warmth of your hosting! 
Will Oster
See you again next year
Where do I start? The location and house far exceeded my expectations, the food was delicious, I was catered for without hitch and made to feel no dietary need was a problem. Susie and James' hospitality was flawless and I felt as though their home was my home. It was difficult to tear myself away, both from the retreat, the tranquillity and two wonderful people. Thank you so much Susie and James, see you again next year.
Rebecca Smith
A warm welcome
Do
maine du Pignoulet is a true family home with a warm welcome waiting from James and Susie.
Our promised Pilates sessions,  were wonderfully delivered by Susie in her own innovative, creative and informative style, we left each class feeling stretched, tired and yet totally invigorated. The beautiful pilates studio with its tranquil outlook leaves you feeling relaxed and at peace with the world. The big surprise, was each amazing healthy gourmet meal prepared and served by our hosts. The food alone would call me back.
Hilary Martin
A truly amazing place
A truly amazing place made unforgettable by the brilliant hosts. Thank you both for everything, we will definitely be back soon!
Jamie Clements
We loved this house! We stayed here with friends and family and lived it. The setting is stunning and sitting outside to eat on a warm evening with family and friends has got to be one of the nicest things ever. Lots of local activities including tennis and wake boarding which we all loved. A great local food market and a man with a van of delicious cheeses turned up mid-week. the pool is lovely, the house is well equipped – all in all we loved it!
Marihelen Esam
Great property in a great area of France. Home from Home. Really well restored property that you wish was yours! The food was excellent and the local restaurant we visited was French cooking at its best. Great place. Fantastic holiday.
Nick Collison
My husband and I had a fabulous long weekend staying in this super property. Even with the winter weather being horrible we lit the fires and enjoyed eating local produce and drinking fine wine while soaking up the atmosphere. We would love to go back with our large family in the summer.
Gillian Smith
We highly recommend
We loved our visit – the house is huge and stylish with high ceilings and large shuttered windows opening onto country views. There's loads of entertaining space and garden for the children to run around in, along with a wonderful swimming pool. It's a perfect house for a large house party. You can go walking and cycling nearby and visit local historic towns for shopping, restaurants and wine buying. We highly recommend!
Lucy Eggleton
Food relentlessly delicious
I wanted to say a massive thank you for hosting five of the most fantastically relaxing, celebratory and French days I have ever experienced. The house is gorgeous and the food was relentlessly delicious. Thank you so much for such an epic five days.
James Townsend
Restaurant worthy food…
The food we ate was consistently restaurant worthy, truly delicious and so varied. I can only imagine the amount of thought, preparation and effort you put in. I really will never forget those 5 days.
Ric Coducci-Pisanelli
Une maison pleine de charme
Super semaine en famille dans cette maison spacieuse et confortable. la maison paisible et pleine de charme est vraiment idéale pour accueillir une grande famille où parents et enfants préservant leur intimité. Nous avons apprécié l'espace des chambres, le confort des salles de bains, la grande cuisine et la lingerie, le grand pré où nous déjeunons tous les jours. Les salons confortables nous ont permis de faire des parties de loup garou endiabées… et la piscine, un régal!!!
Micheline Grehal
 I will never forget the experience and the work that 2 people put in behind the scenes to make sure everyone has the fantastic memories they do.
Harry Dixon
Beautiful and charming
Everything was so special – the people, the food, the house and the exquisite surrounding French countryside in which it was all set. Your house is so beautiful and charming; I can understand why it is so loved by your family and so full of amazing memories.
Claudia Beith
Such a wonderful retreat
I only knew you Susie before Monday, but I felt among a whole group of friends within minutes. You have created such a wonderful retreat – calm, peaceful, yet demanding and challenging. And the food……Thank you for giving me this chance to find things I thought lost.
Miriam Rose
A little piece of heaven
A little piece of heaven! Thanks so much for the restorative nature of this wonderful retreat.
Sue Boyles
Yoga, Pilates, great food, wonderful location
A fabulous concept and combination – yoga, Pilates, great food, wonderful location and super company. Thank you Susie and Kim for your talent, patience, attitude to life and kindness.
Cath Gunn 
I have been physically challenged, spiritually uplifted and my "batteries" recharged. The care and thoughtfulness of our hosts and teachers brought peace and nourishment and encouragement. The setting was just perfect! Thank you for an amazing experience that has inspired so much in me!
Debra Butler
Fantastic hosts
Fantastic hosts. Beautiful setting. Lovely food. Have enjoyed every moment. Will recommend. Namaste
Sarah Hesketh